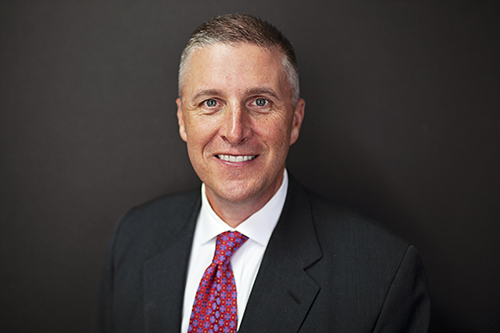 Brent Conway, Managing Director, Office
O: 405.208.8636 E: bconway@newmarkrp.com
Brent Conway serves as Senior Vice President and Team Leader of the office group at Newmark Robinson Park. He and his team specialize in the acquisition, disposition, and leasing of office space in Oklahoma City and Tulsa, where they exclusively represent in excess of 4,200,000 square feet.
In addition to landlord representation, Brent has spent his 20-year career in support of large-scale land development and build-to-suit projects throughout the state of Oklahoma. He is an operations and project-focused broker in command of a wide range of skills which include facility operation, project management, construction, and zoning processes.
Mr. Conway and his team provide their clients with a variety of services including project leasing, site selection, and tenant representation. Brent's experience in the corporate environment gives him a unique end-user perspective of corporate real estate issues, processes and objectives.
Contact Mr. Conway or one of our other brokers anytime.
Education
Southern Nazarene University, B.S. in Business
Southern Nazarene University, M.S. in Science of Management
Partial Client List
ADT
ALSAC/St. Junes
Andreini & Company
AT&T Wireless Services
Amedisys
CACI
CH2M Hill
Eastgroup Properties
Express Personnel Services
Exterran Energy Solutions, LP
Frates Insurance
Gallagher-Bassett
Husy Ventures, LLC
Level 2 Communications
Marathon Oil
Mercy Health
Merrill Lynch
Mustang Fuel Corporation
Paychex
Royal Bank of Canada
Notable Sale and Lease Transactions
| Property | Leased Square Footage | Property | Sale Price |
| --- | --- | --- | --- |
| Lexington Realty Trust | 128,500 SF | Cotter Ranch Tower | $21,000,000 |
| Cox Enterprises, LLC | 107,593 SF | Landmark Towers | $19,200,000 |
| AT&T Services, Inc. | 103,500 SF | 2000 N Classen Blvd. | $14,000,000 |
| Sprint/Nextel | 101,800 SF | Lakepointe Towers | $9,000,000 |
| Schlumberger | 57,000 SF | 3300 NW 56th St. | $7,950,000 |
| Mustang Fuel Corporation | 37,000 SF | Express Personnel | $6,700,000 |
| Mercy Health | 34,788 SF | Mercy Health | $4,100,000 |
| DCP Midstream Oklahoma | 25,000 SF | 2600 - 2630 NW Expwy | $4,000,000 |
Back to Top